BEACHES
Below the villa is a new small paved beach !!!
and there is a beautiful, exotic pebble beach about
400 meters away which you approach by a romantic pathway.
If you like free climbering, adventures,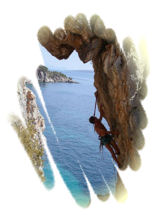 cliffbase sea adventure center
there is also a more exotic beach situated in a
picturesque and deserted lagoon, about 700 meters,
(an oasis for naturists) relly paradise Piscena about 3500 m
and Lutshistshe about 2700 meters away from the villa
If you like to dive without breathing,
then you've come to the right place: look at this video!